Sally Petitt began her career in 1988 as a trainee horticultural technician at Cambridge University Botanic Garden. During her career at Cambridge she has had responsibility for several sections, including alpines, and is now Head of Horticulture.
She has travelled in Europe and Asia studying plants in their natural habitat, and has twice received funding from the Merlin Trust for plant collecting expeditions to Pakistan and China. She has written for a number of publications including Curtis's Botanical Magazine and The Garden.
Currently Sally is chair of the Merlin Trust.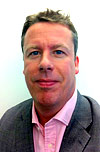 Jonathan grew up on the family farm in Kent which sowed the seeds of his interests in horticulture and target shooting at an early young age.   Later, he graduated from Oxford with a Biology degree and whilst there, participated in a plant hunting expedition to Nepal (along with fellow trustee Bill Baker) – this expedition was funded in part by an award from The Merlin Trust.
After his studies Jonathan qualified as a Chartered Accountant whilst working for what is now PwC.   Since then he has worked in various accounting and audit roles at Reuters plc, BPB plc (now St Gobain) and now works at Hutchison Whampoa's European head office in London.
He lives with his family in West London where a number of his garden plants suffer from the side effects of two energetic children.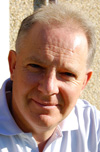 Since 2000 Jim Jermyn has been Show Manager of Gardening Scotland, Scotland's National Gardening Show. For 20 years (from 1978) he was proprietor of Edrom Nurseries, specialising in alpine and woodland plants.
Jim lectures widely in Europe, Canada and the USA. He has written two books for Timber Press: The Himalayan Garden, Growing Plants from the Roof of the World and Alpine Plants of Europe – A Gardener's Guide.
Jim lives in Haddington, East Lothian with his wife Alison and gardens at Smeaton, East Linton.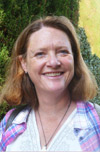 Fiona Crumley is the former secretary of The Merlin Trust and has travelled to many parts of the world particularly to look at gardens, but also the native flora and fauna.
Fiona has always worked as a gardener since leaving school and always enjoyed working within the profession of horticulture. After completing an HND in Amenity Horticulture at Askam Bryan College, York in early 1980s she then worked as a gardener at Newby Hall in North Yorkshire before moving to spend 15 years at the Chelsea Physic Garden with 12 as Head Gardener. Recently Fiona has finished working at Chiswick House Gardens after 5 years as Head Gardener and seeing through the massive park regeneration project.
Fiona is now London based working from home with a garden and an allotment and is currently a member of the Professional Gardeners Guild Traineeship sub-committee and the Worshipful Company of Gardeners and London Gardens Network. For the Royal Horticultural Society, she sits on the Bursaries Advisory Committee and is a judge for the Windlesham Trophy (which judges the finalists of a competition within HM Prisons).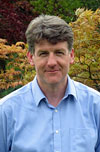 Paul is Curator at the RHS Garden Harlow Carr, in Yorkshire. He trained at the RBG Kew and during this time was awarded travel scholarships to work at the RBG Edinburgh and in 1987 to spend four weeks exploring the Dolomites tracking the travels made by Reginald Farrer.
After Kew Paul worked as Head Gardener at Arley Hall Gardens in Cheshire before taking over as Curator at Ness Botanic Gardens from Peter Cunnington.

Kit is responsible for the care of the Alpine bulb collections, including the Juno Irises at the Royal Botanic Gardens Kew.
She has travelled extensively throughout her career, planning and carrying out research and collection expeditions to enhance the Alpine bulb collections at Kew. These expeditions include: Spain to look at Narcissus triandrus; Several collection trips to the mountains of Tajikistan, jointly with the Royal Botanic Garden Edinburgh and in collaboration with Botanists in Khorog and Kulob; She has also travelled to Azerbaijan to collect live plant material. On a number of these expeditions she has collected seed for the Millennium Seed Bank.
Kit organises the Harlow Early Spring Show for the Alpine Garden Society (AGS), which is a very popular spring show. She also regularly gives lectures to AGS groups, on a wide variety of topics, and writes for various specialist publications such as The Plantsman, Curtis Botanical Magazine, The Cyclamen Journal, and The Fritillaria Bulletin.

Currently Curator of Living Collections, Royal Botanic Garden Edinburgh [RBGE]. Previously Curator of Dawyck Botanic Garden, near Peebles, and Garden Supervisor at Logan Botanic Garden, Head Gardener Castle Kennedy Gardens, Assistant Head Gardener National Trust for Scotland's [NTS] Brodick Castle Garden, Isle of Arran spent a year at Longwood Gardens, Pennsylvania. Studied at Threave Gardens [NTS], and the Royal Botanic Garden Edinburgh and started his career at Branklyn Garden [NTS] Perth.
Involved in RBGE's contribution to the Global Strategy for Plant Conservation (GSPC) Target 8 project work in Scotland and has undertaken fieldwork in China, Japan, Korea, and Nepal.
Member of the RHS Bursaries Committee, the RHS Woody Plant Committee, the National Tree Collections of Scotland working group, the UK Plant Collections Working Group, the Forestry Commission's Westonbirt and Bedgebury Advisory Committee, Drummond and Grimesthorpe Council and Trellis. Currently President of the Royal Caledonian Horticultural Society.
The Merlin Trust Secretary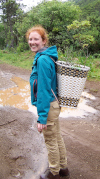 As the Alpine and Woodland Supervisor at St Andrews Botanic Garden, Sarah has responsibility for managing the Rock Garden, Woodland and Pinetum, and the Alpine Display House. She is passionate about all things Alpine (and sub-alpine!) and travel. She has worked and travelled in the French and Swiss Alps, all over China including the Chinese Altai, South-East Asia, North America, the Russian Altai, and Kyrgyzstan. She was Merlin 537 in 2011 with her trip to the Jade Dragon Snow Mountain in Yunnan, China.
She began her horticultural career in 2004, working as a gardener in Brighton. In 2013 she graduated with a first class honours degree in Horticulture with Plantsmanship (BSc) from the Royal Botanic Garden Edinburgh (RBGE). It was during her time at RBGE that she discovered a love for Alpine plants and went on to work as part of the Alpine Team at RHS Garden Wisley. She is now delighted to be part of the team at St Andrews Botanic Garden and is looking forward to developing the botanical collections.