Congratulations to Rosie Henstridge and Anthony Callan who are the 2020 recipients of the Valerie Finnis Prize and Christopher Brickell Prize respectively. These prizes, which come with a £500 award each, recognise excellent reports submitted following a successful Merlin Trust-supported study tour as judged by a panel of Merlin Trust Trustees. The Valerie Finnis Prize is awarded to the report demonstrating photographic excellence while the Christopher Brickell Prize is awarded to the best overall report.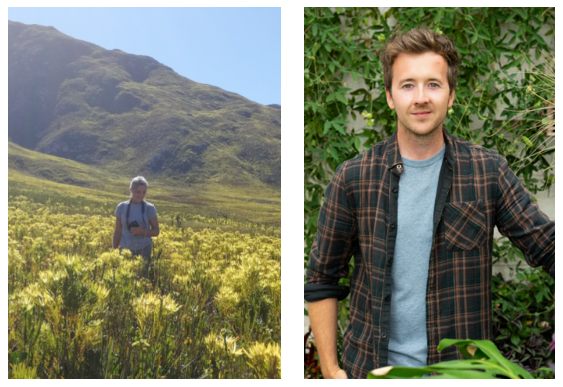 Rosie Henstridge (left) during her study tour and Anthony Callan (right) after his return from Canada.
Rosie travelled to South Africa in 2019 to visit a variety of different floral habitats and provided some excellent photographs in her report, some of which are now included in a Merlin Trust gallery (https://merlin-trust.org.uk/gallery/). Anthony travelled to Canada and produced a report that the judges said "demonstrated good research, lots of background information and clearly showed the visit to have been a life-changing experience, as well as being very well written".
The Merlin Trust awards young and early-career horticulturists with travel bursaries which allow them to travel around the world for work experience, to see plants growing in their natural habitats and network with other horticulturists to learn new skills that will support their career. Each 'Merlin' then provides a written report of what they did, what they learnt and what this might mean for their career. The reports are published on the Merlin Trust website and are submitted to the RHS' Lindley Library and to the Royal Geographical Society. The annual awards recognise the most outstanding examples of the reports submitted, although almost all demonstrate the enthusiasm and commitment of these young horticulturists.
While the Merlin Trust has currently suspended submissions for travel grants during the Covid-19 pandemic, you can still explore the world through the reports of all our previous Merlins. There are hundreds of reports available – most from the Merlin Trust website – to give you a taste of the global botanical and horticultural world from the comfort and safety of your armchair. They might even encourage you to start planning a tour in the future, post-Covid-19…
To find out more about the Merlin Trust, please visit our website: https://merlin-trust.org.uk/