Congratulations to Rosie Treharne and Tracey Fahy who are the 2023 recipients of the Valerie Finnis Prize and Christopher Brickell Prize respectively. These prizes, which come with a £500 award each, recognise excellent reports submitted within three months of returning from a Merlin Trust-supported study tour, as judged by a panel of Merlin Trust Trustees. The Valerie Finnis Prize is awarded to the report demonstrating photographic excellence while the Christopher Brickell Prize is awarded to the best overall report.
Rosie travelled to Jordan in 2020 to explore the different floral habitats of this country, particularly the steppe vegetation around Jerash and Ajloun, then moving down the Jordan Valley to the Black Sea to more desert-like conditions. Unfortunately, the timing of the visit coincided with the COVID-19 pandemic so Rosie's trip was cut short and missed Petra and the orchards of Wadi Rum. Nevertheless, the images that Rosie took on her tour were considered by the judges to be "excellent, adding a nice personal touch". You can see Rosie's Valerie Finnis Prize winning images on the Merlin Trust virtual gallery.
Tracey's visit was to the Agroforestry Research Site in Totnes, Devon in 2022 and involved a short course exploring forest gardening. Tracey wanted to explore forest gardening and learn more about forest garden design to apply in her voluntary role and on her allotment. The judges were impressed by Tracey's enthusiasm which "just brought the subject to life – an inspiring report": a very fitting recipient of the Christopher Brickell Prize.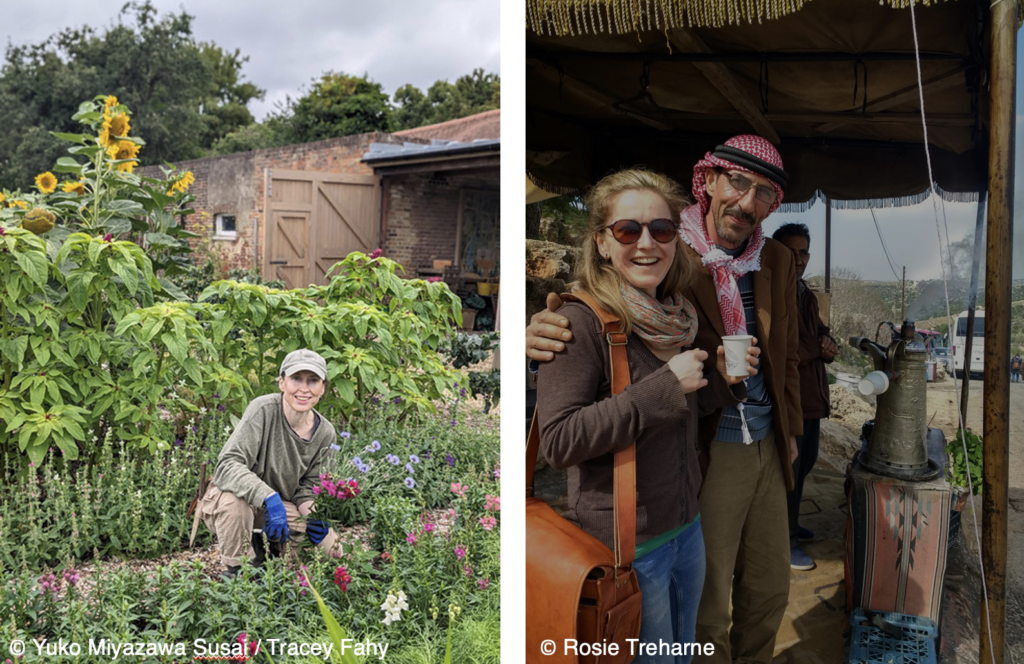 (Image: Prize winners Tracey Fahy (left) and Rosie Treharne (with coffee vendor) (right))
The prize hasn't been awarded for three years as bursaries were suspended and then only gradually re-introduced as travel opened up again. Since the pandemic, all awards have been restricted to the UK and Europe, initially due to pandemic concerns but now to reflect increased travel costs and a growing awareness of the need for more sustainable travel. The reports considered for the 2023 prizes therefore span three years and with the exception of Rosie's report, focus on the UK and Europe.
The Merlin Trust provides young and early-career horticulturists with travel bursaries which allow them to travel for work experience, to see plants growing in their natural habitats and network with other horticulturists to learn new skills that will support their career. Each 'Merlin' then provides a written report of what they did, what they learnt and what this might mean for their career. The reports are published on the Merlin Trust website where they are available to download and read for inspiration and information. The annual awards recognise the most outstanding examples of the reports submitted, although almost all reports we receive demonstrate the enthusiasm and commitment of these young horticulturists. Why not take a look and explore the horticultural world from your armchair? You never know, they might inspire you to plan your own tour…
To find out more about the Merlin Trust, please visit our website: https://merlin-trust.org.uk/